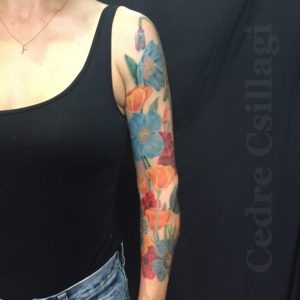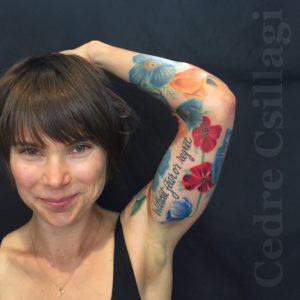 Poppy sleeve! Text by another artist.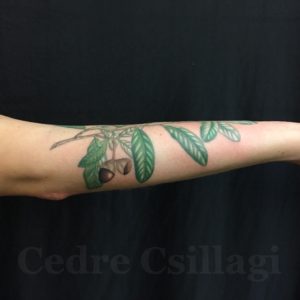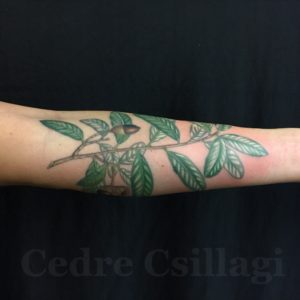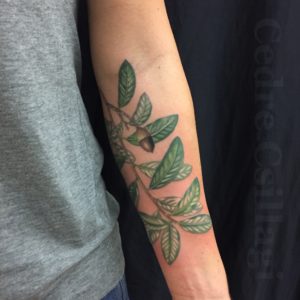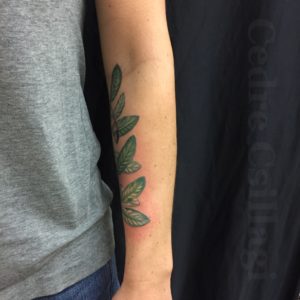 Danielle's Southern Live Oak. Also known as Quercus Virginiana.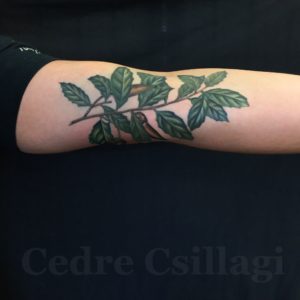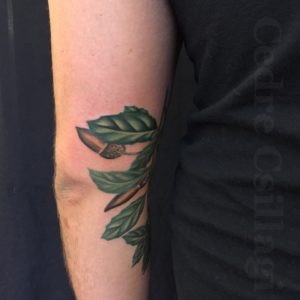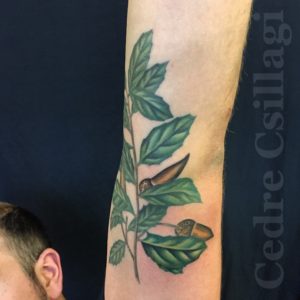 Michael's Coast Live Oak branch. Also known as Quercus Agrifolia.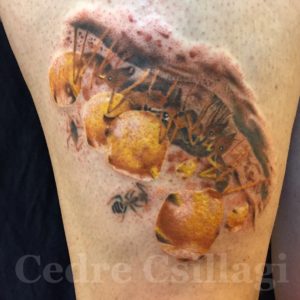 Honeypot ants!!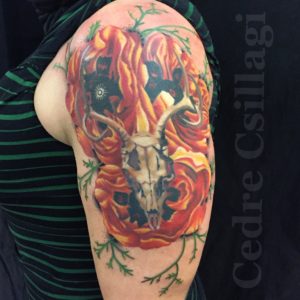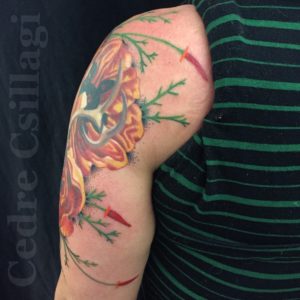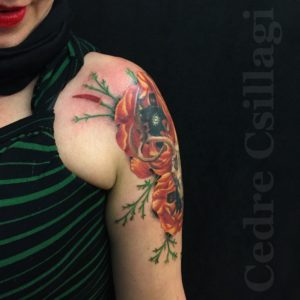 Georgia O' Keeffe painting mashup.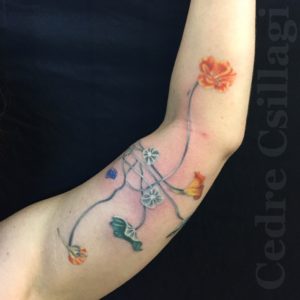 Duplication of a painting (with permission) by Toni Hayden in the U.K. More of her work at http://tonihayden.co.uk.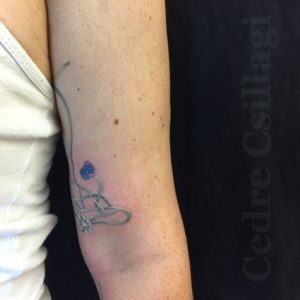 Another angle of the duplication by Toni Hayden. I love this angle. We have changed the little seed bud into a holder for some blue and purple space!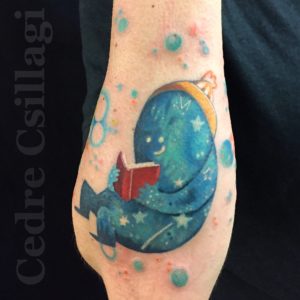 Cutie patatooti darkness critter. A lovely duplication/added extra space bits from @emmayarlett's art in her book 'Orion and the Dark'.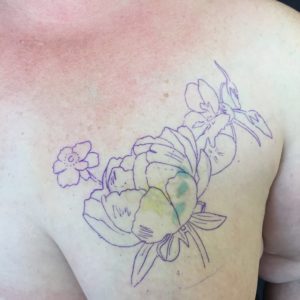 Before, with the stencil already over it. I had this client do quite a few lightening sessions before we began working.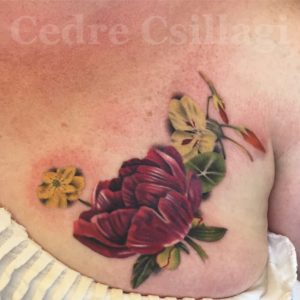 After. I'm truly happy how this coverup turned out. Cosmos, a peony, and some nasturtium.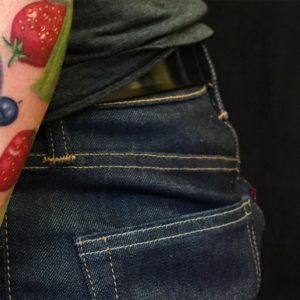 This was a much bigger piece of fruits and veggies, but it was around lots of tattoos I didn't do. Here's a shot I love of the strawberries and a blueberry and a teeny bit of the asparagus stems.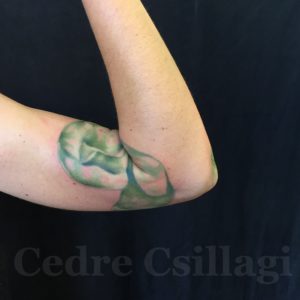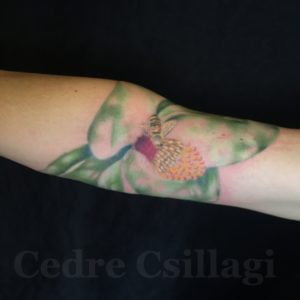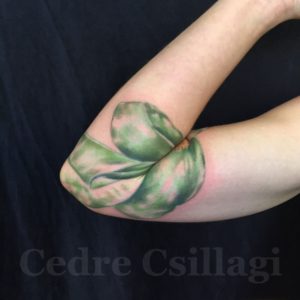 Magnolia. Folded up it makes a beautiful shape on the inner and outer arm.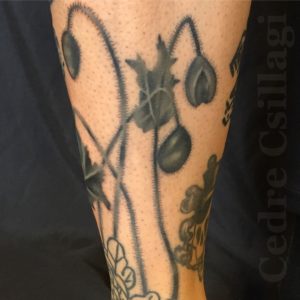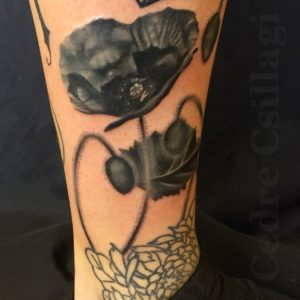 Black poppies!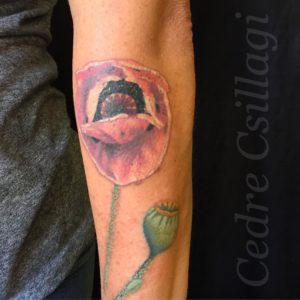 Garden find.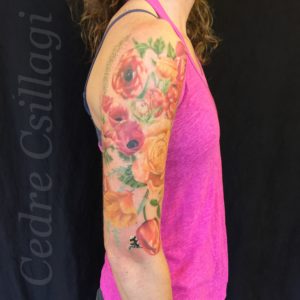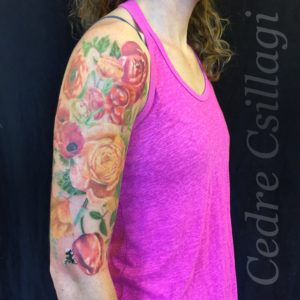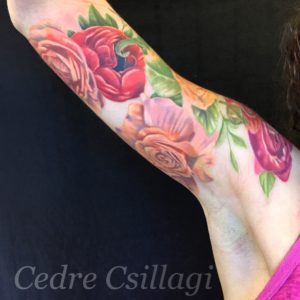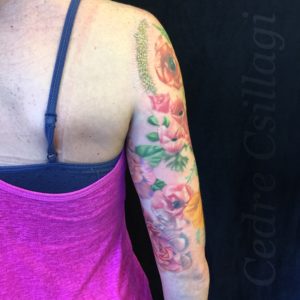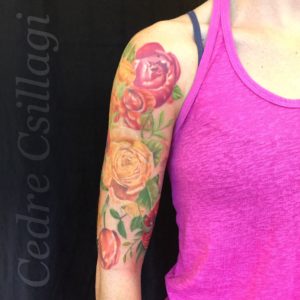 This piece includes peonies, roses, leaves, a tulip, and a bee.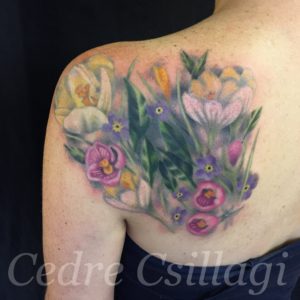 Botanical coverup.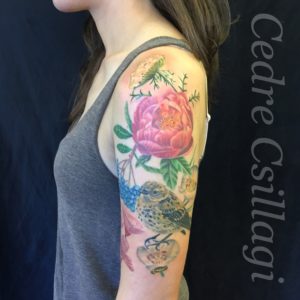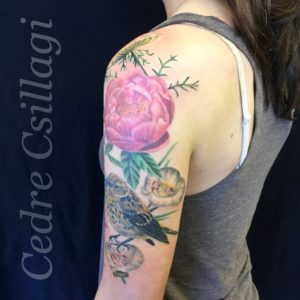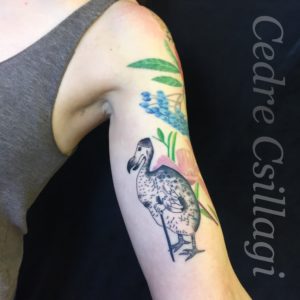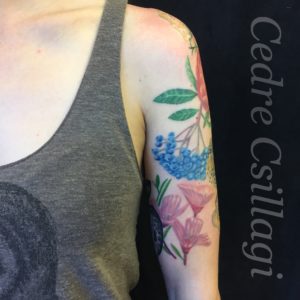 Warbler, Mariposa Lilies, Peony, Queen Anne's Lace, Dodo bird drawing duplication, Elderberry and Clarkia.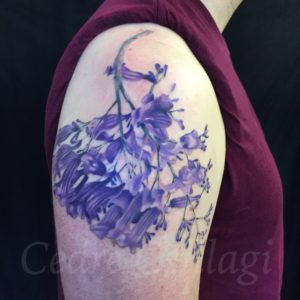 Jacaranda branch.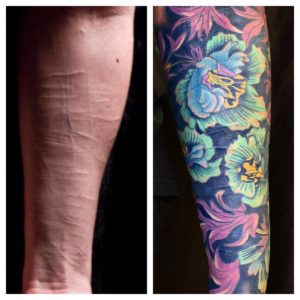 Forearm scar coverup with William Morris inspired tattoo. Before photo by Hayley Dyer.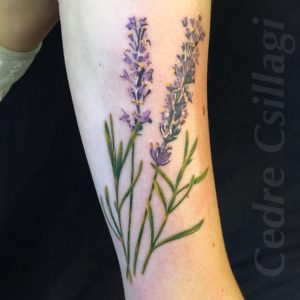 Lavender painting duplication.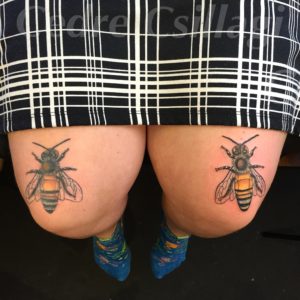 Bees knees sitting.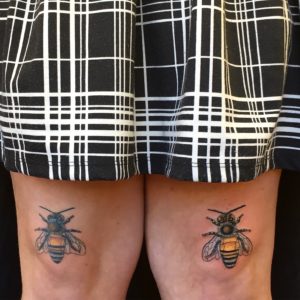 Bees knees standing.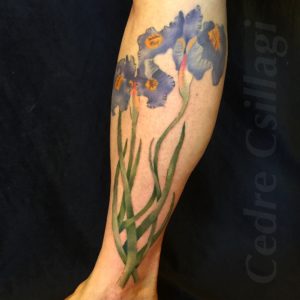 Iris.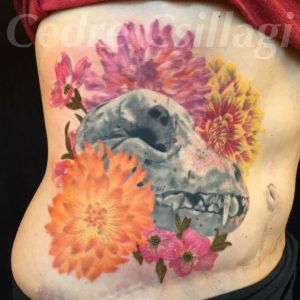 Torso tattoo of a dog skull surrounded in dogwoods and dahlias.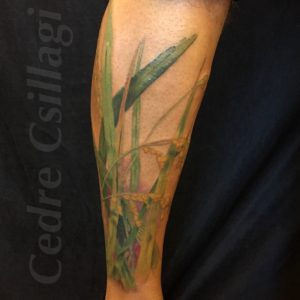 Rice.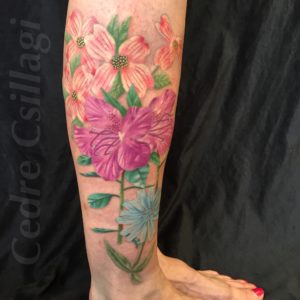 Dogwoods, Azalea and chicory.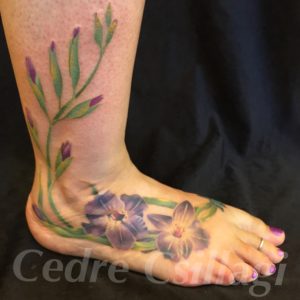 Gladiolas.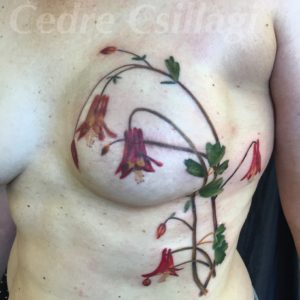 Truly proud of this scar coverup I completed in June 2016. It's a duplication of a Wild Columbine print from 1921.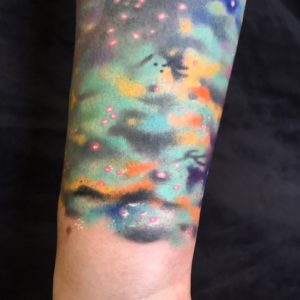 Space.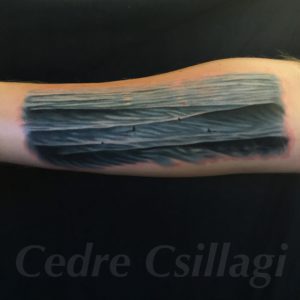 Ocean scene. Surfers included.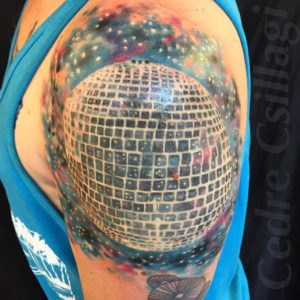 Disco ball in space.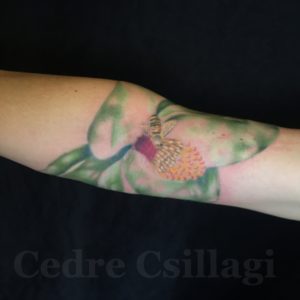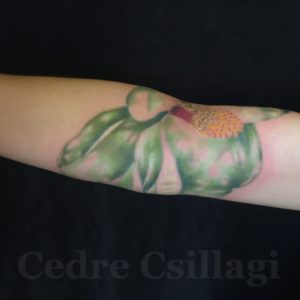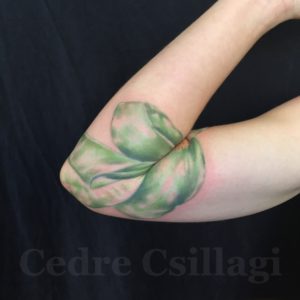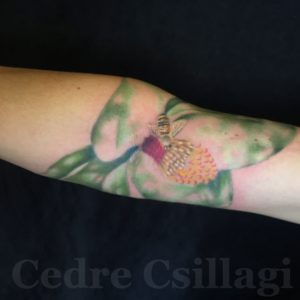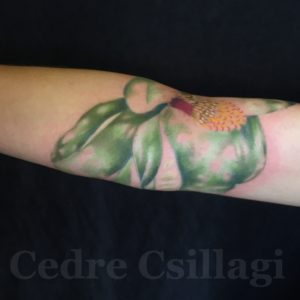 Magnolia on inner and outer arm. Abstractly done using green hues only and using the skin as a highlight.  Multiple views.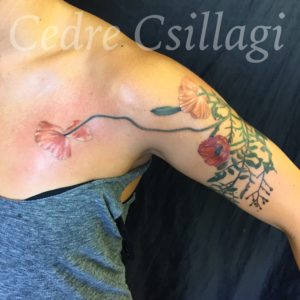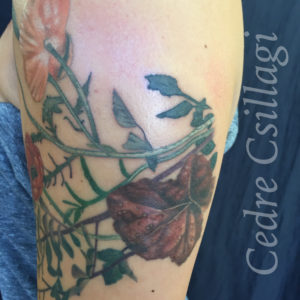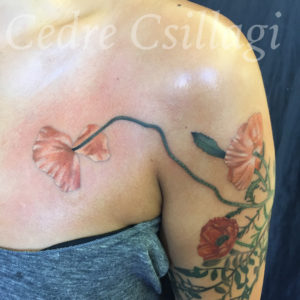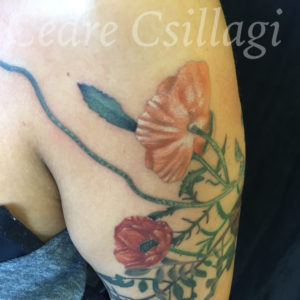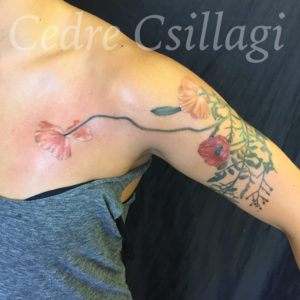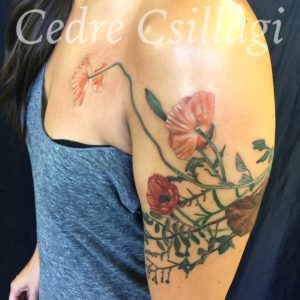 Botanical bundle.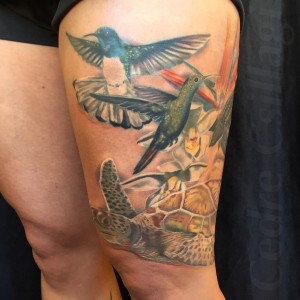 This lovely piece is a tribute to my client's daughter and her birthplace Trinidad and Tobago. Two sea turtles (hawksbill and baby leatherback), hummingbirds (white-necked Jacobin and a male black-throated Mango) and flowers (Bird of Paradise, orchids and hibiscus.)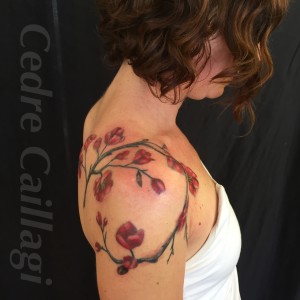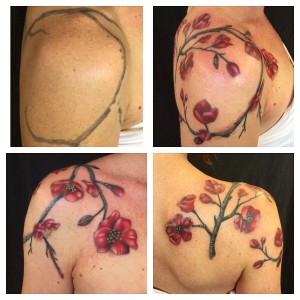 Progression shots of this branch transformation. The first one on the top left is what my client came in with from another tattooist.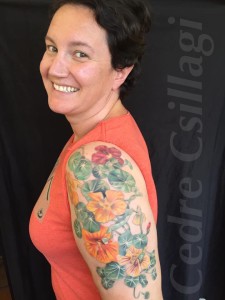 Nasturtium tattoo on the famous Emily McDowell! https://emilymcdowell.com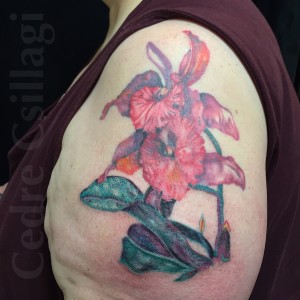 Duplication of a Sara Steele watercolor painting. To see more of her work visit http://www.sarasteele.com.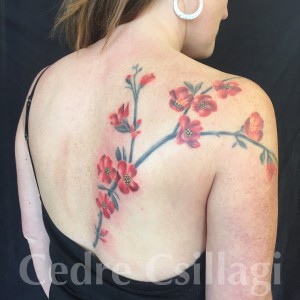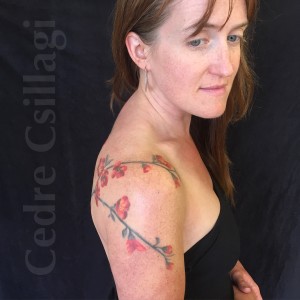 Quince branch on upper arm/shoulder.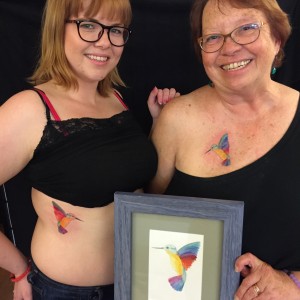 Watercolor hummingbird painting duplication on this mother and daughter. They are the granddaughter and daughter-in-law of my 96 year old pal, Natalie, that passed away in 2016.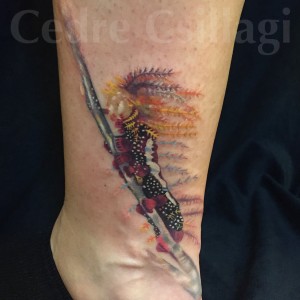 Saturniidae Moth Caterpillar on ankle.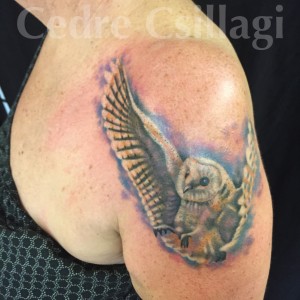 Owl on upper arm!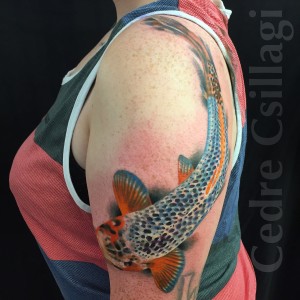 Koi on upper arm.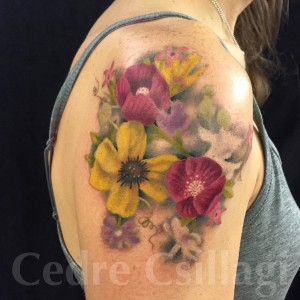 Wildflowers on a client all the way from Texas!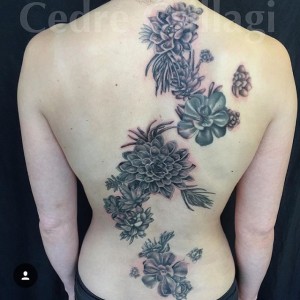 Succulent backpiece. Black and grey.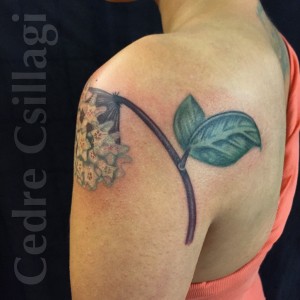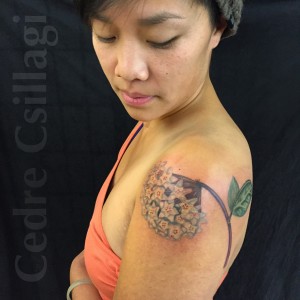 Hoya Carnosa completion on upper shoulder.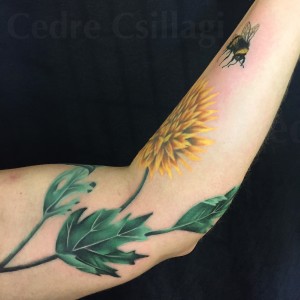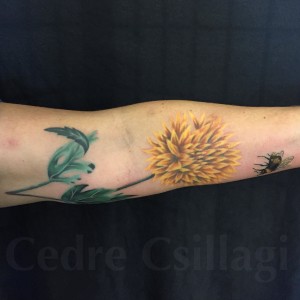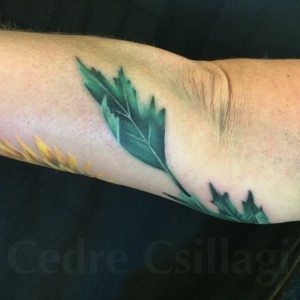 Dahlia plus bee painting duplication on inner arm and forearm.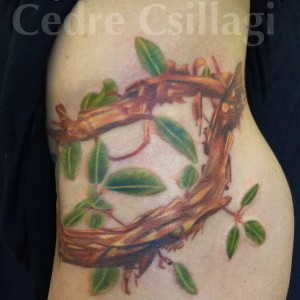 Madrone branch wrap around on hip!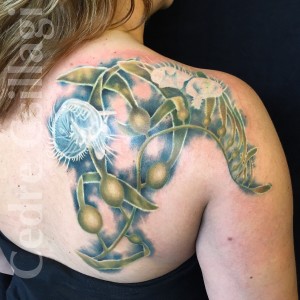 Nudibranchs and kelp on upper back and shoulder.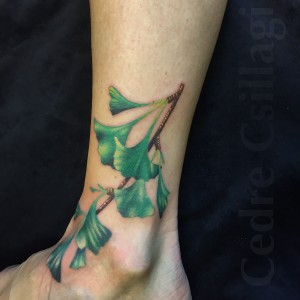 Ginkgo branch on ankle.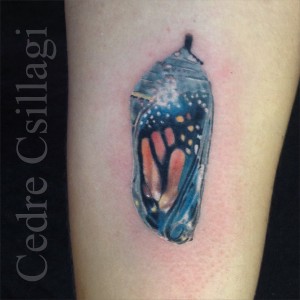 Chrysalis photo duplication. Original photo by William Chu. You can find more of his work on Instagram @imjustabill..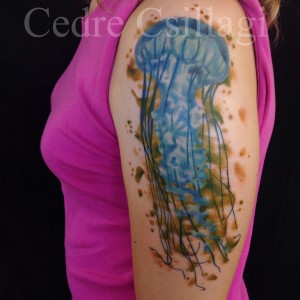 Watercolor jellyfish based on a picture the client brought in for me to work with.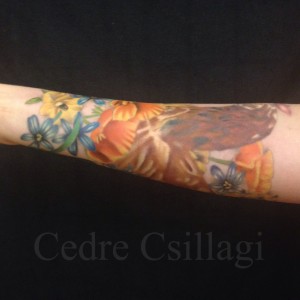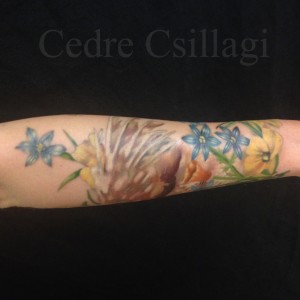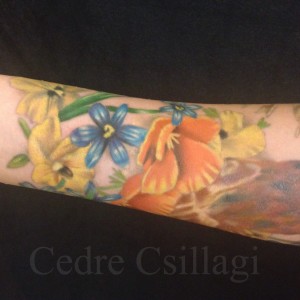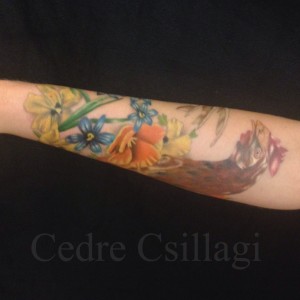 The above 4 pictures are from a forearm tattoo I did. It is of a on a liberated battery hen sitting in some native California flowers and was inspired by the client's experience interning at a sanctuary for farmed animals in Vacaville, California.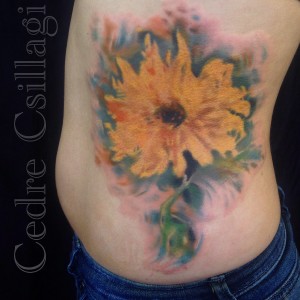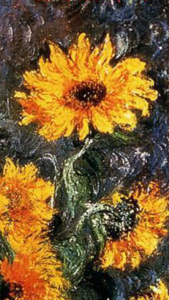 This tattoo above this is based on this Monet painting. I changed some details and colors based on the client's preferences.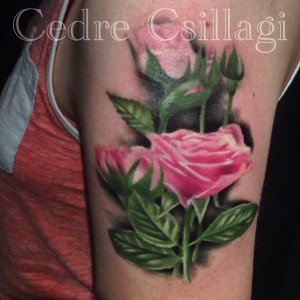 Roses on upper arm. Black behind a botanical piece really brings out the foreground beauty.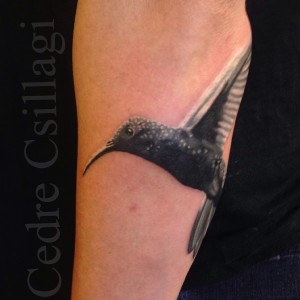 A hummingbird rendered in black, grey and white.
Duplication of M. Imai's drawing: 'Seeds of Morning Glory'.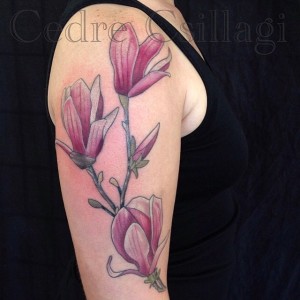 Magnolia branch on the upper arm.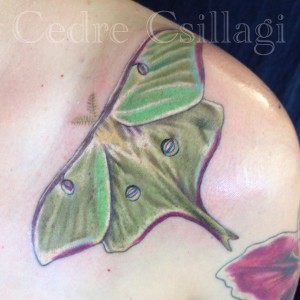 Here is a luna moth flying from the upper shoulder. These winged creatures are the largest moths in North America!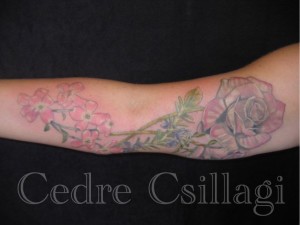 An example of a botanical piece that is a bit hidden away when the arm is at rest against the body, and also done with very soft colors.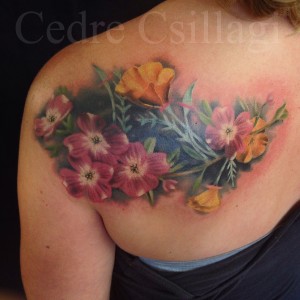 This is a coverup that was very satisfying to complete.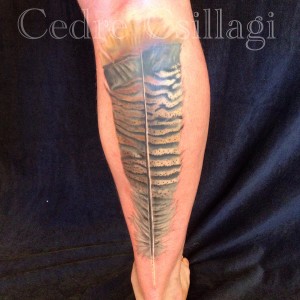 Turkey feather on Michelle's calf! We worked directly from a feather she brought in and tried to incorporate as many of the dots, lines and patterns that actually show up on these feathers. Super fun tattoo.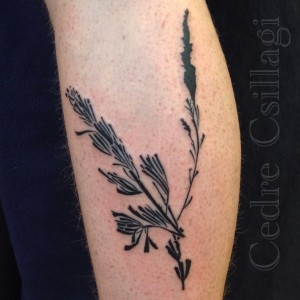 Blackwork sage silhouette on the outer calf.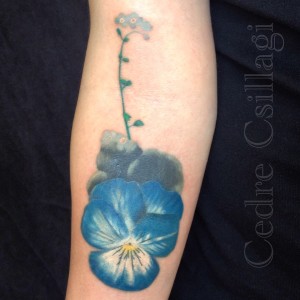 This piece was a coverup, inspired by a Georgia O'Keefe painting. We needed to change a few things so that the older piece could be covered up, as well and lightened up one of the pansies to make the piece a bit softer.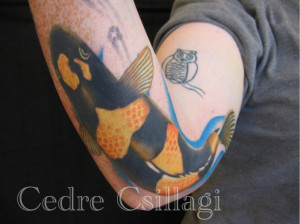 Koi swimming in the inner arm/forearm area.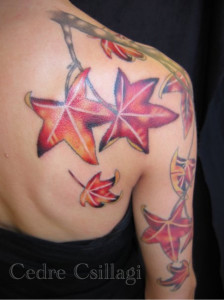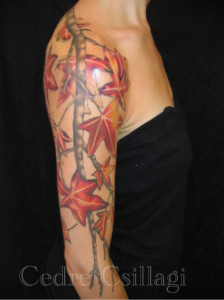 Japanese Maple branch half sleeve.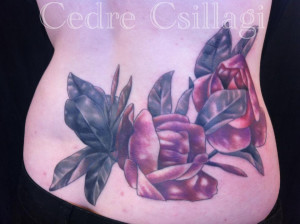 Magnolias on the lower back covering up an older tattoo. We kept this piece simple in terms of color, but still very much a realistic botanical piece.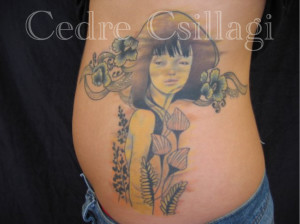 Painting Duplication.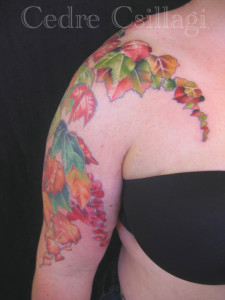 Boston Ivy trailing down inside of the arm and front of chest. They start out so small as they grow to cover buildings!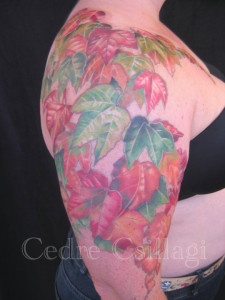 Boston ivy sleeve. Leaf detail is a true delight to focus on in a tattoo.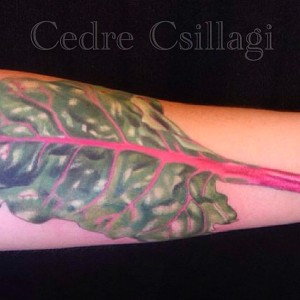 Rainbow chard on forearm. Food tattoo!!!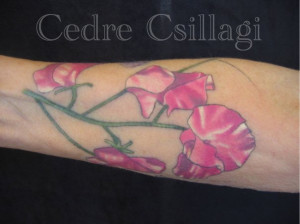 Sweet peas on forearm.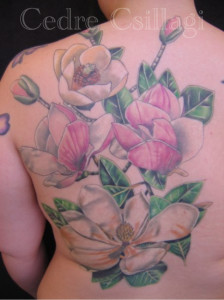 Magnolia Backpiece.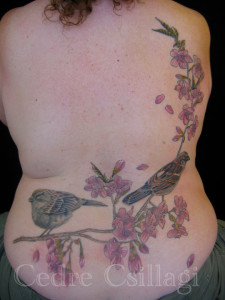 Botanical backpiece of little birdies and blossoms.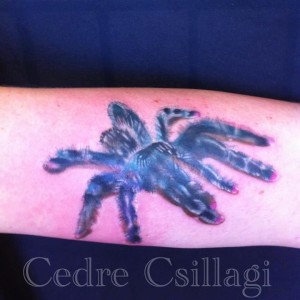 Tarantula tattoo on forearm.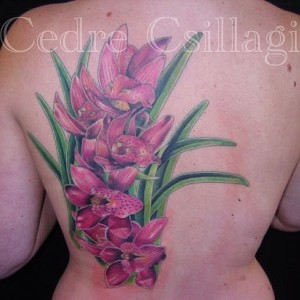 This is a botanical tattoo of orchids across the left hand side of the back.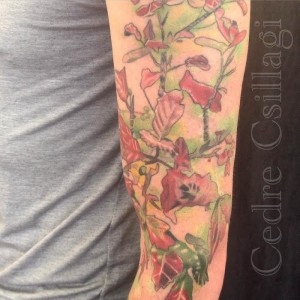 This is a watercolor painting duplication of some poison ivy that Mathew brought in to me. We made it a little less busy, and then added some greens in the background for consistentcy. A super fun piece to work on!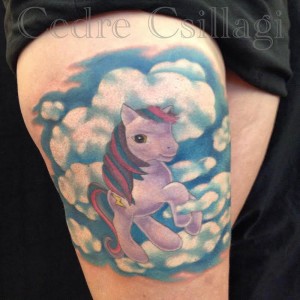 My Little Pony tribute to client's own life long love for horses. Specifically, her own horse.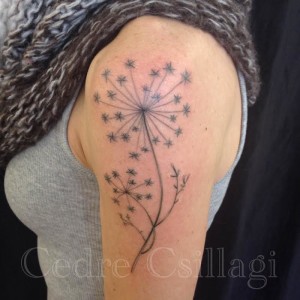 This piece is based off of my client's love for Queen Anne's Lace.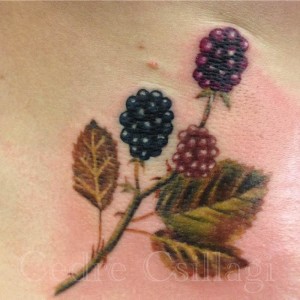 Blackberry painting duplication. Lovely little piece on my client's lower back.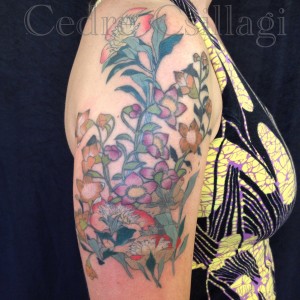 This botanical duplication was from two collaged paintings brought in by my client. She had an older tattoo that was right in the center of the current image and we darkened those lines, as well as added color. Then I created the collaged painting duplication to surround that older work and create a finished piece.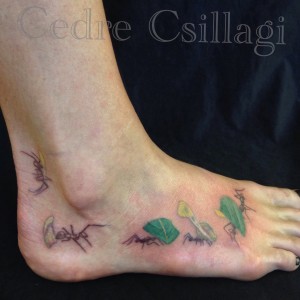 This piece was based on my clients experience with them crawling across her feet as she worked. They became an integral part of her life experience and she decided to have them continue to crawl and carry their leaf and flower parts with them.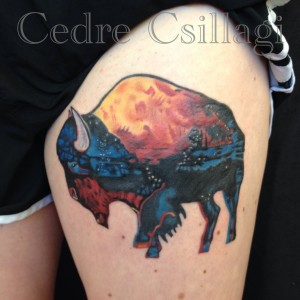 This tattoo is a duplication of a buffalo painting brought in. It is an almost exact rendering except taking out a bit of green and changing some of the details to make it a tattoo that will look good in the years to come.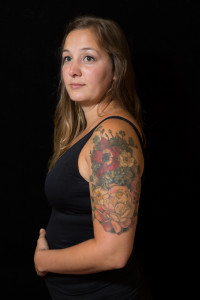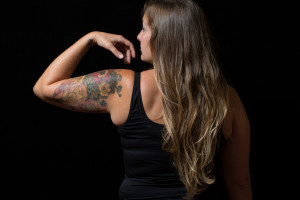 This botanical duplication was based on a piece brought in. I was extremely inspired with this painting. Rendering the colorful nuances was fun, and I added some black in the background to really push those flowers into the foreground.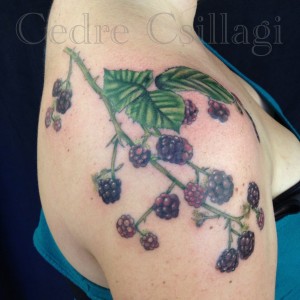 This is a Blackberry vine painting Duplication. The wrap from her back to the top of her shoulder to the front of her shoulder allows the tattoo to have a lot of movement.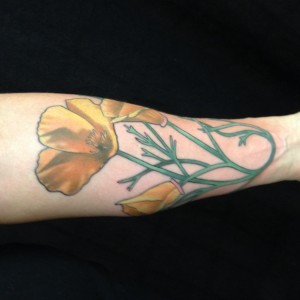 This is an Art Nouveau inspired poppy tattoo placed on my client's forearm.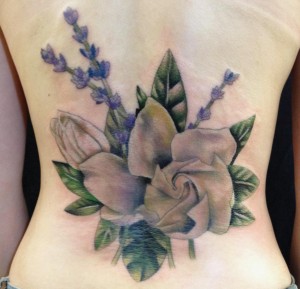 A Gardenia and Lavender coverup on the lower back. This piece inspired my drawing on the Art page titled, "Botanically Spaced."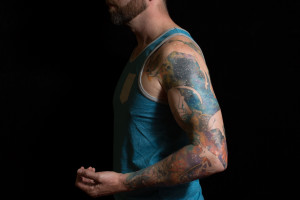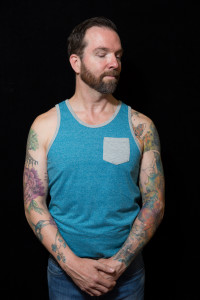 This sleeve is based on my dear friend's spirit animals as constellations, and we surrounded them in space. References taken from the Hubble Space Telescope. I love tattooing space!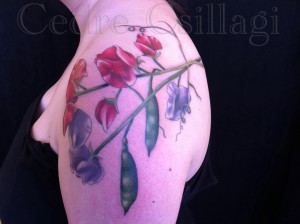 This is a sweet pea vine, with pea and flowers included. A lot of clients love this plant because of the curling tendrils, which twine around supporting plants and structures helping the sweet pea to climb.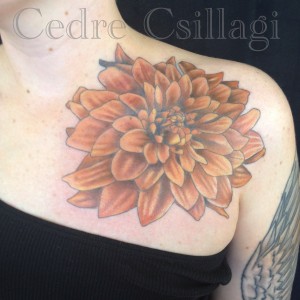 Here is an orange Dahlia flower on the chest. While doing this tattoo, I learned that Dahlias are related to the sunflower, daisy, chrysanthemum and zinnia.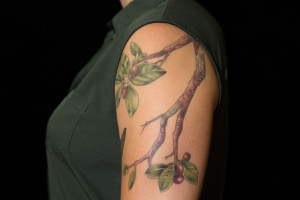 This is a Manzanita branch on the upper arm and reaching over onto the upper back. We included the leaves and berries, and really tried to highlight the incredible branch texture that most of these trees have. Featured in Plant Healer– a digital magazine–on 3/3/14.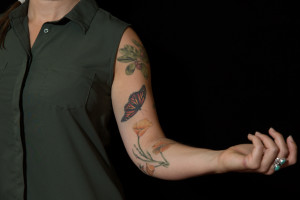 After getting the Manzanita branch, Molly decided to add a butterfly, some bees, and a few poppies to the inside of her arm. The addition really moves your eye around the arm.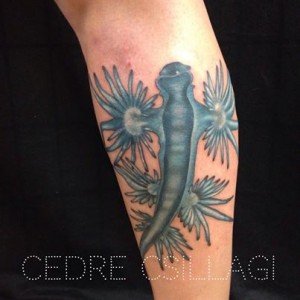 This is a Glaucus atlanticus, blue sea slug, sea swallow, blue angel, or Nudibranch! They are usually such small creatures, but to get all the detail of their little feet and body we changed the size. One of the creatures they feed on is the Portuguese Man o' War , and are able to swallow the venomous nematocysts from them and store it in the extremities of its finger-like cerata (their finger like extremities).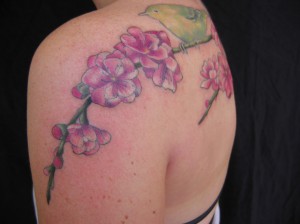 This draped peach blossom branch has a sweet little Warbler perched on the top of it.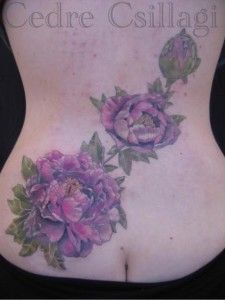 Peonies! A really beautiful flower to work on. This lower back piece actually began with a coverup that is underneath the biggest flower on the bottom.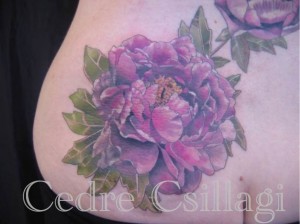 Here is a closeup of the flower with the coverup. I had the client get a few sessions of laser lightening so that we were able to go over it a little easier.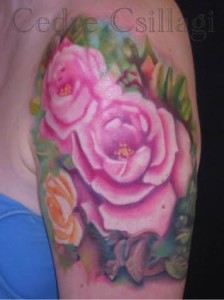 This was my first painting duplication and was really what inspired me to continue to concentrate on them. This particular painting was a client's grandmother's roses oil painting, After she passed away, my client wanted to honor her grandmother and have it put onto her upper arm. I used different colors for the outline, which works in this piece as the dark green shapes around the roses help to pop them into the foreground.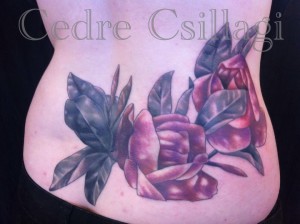 This is a coverup we did with some big beautiful Magnolias and their leaves. My client requested that the piece be a little different then are normally colored. I love how this piece turned out!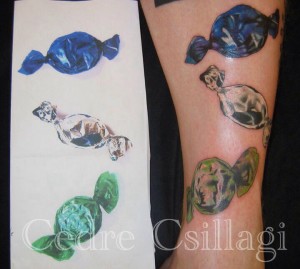 I truly enjoyed tattooing this duplication Feliz Gozalez-Torres candies from Untitled (Portrait of Ross in LA), 1991. Featured in http://www.vulture.com/2014/12/best-art-tattoos-of-all-time/slideshow/28/.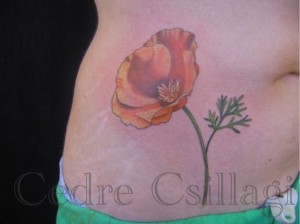 A single poppy on the hip. Because these flowers are so light in color, bringing in some shadow from darker colors gives the petals more dimension.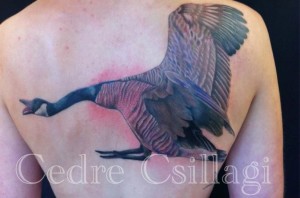 Goose! This piece is grandly shown on my client's back. It had to be large enough to properly show all its long feathers and color variants.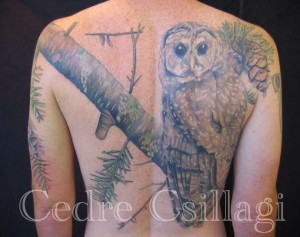 Backpieces truly do lend themselves to animals in their habitats. This owl is perched on a Douglas fir branch, complete with leaves and cones. It also doubles as a coverup.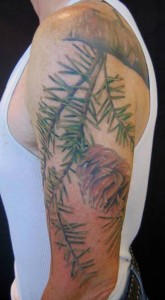 The branch then drops a smaller branch and some leaves down onto her upper arm.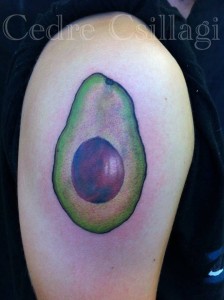 Avocados. Food tattoos are such a delight to do. We all spend so much of our time decided what to put in our body, it seems only natural to spend some time honoring some of your favorites on the outside. If you have a favorite food item, processed or fresh, I would love to tattoo it on you. Here are some ideas I'll suggest. Hamburgers, tomatoes on their vine, a few mushrooms, a stack of pancakes, or even a sliced kiwi.