I became interested in the natural world at a very young age down in Austin, Texas; the home of bluebonnet fields and pecan trees. Some of my very best friends were small treasures found creek side. I sought refuge in the nook of a tree branch and in the sun setting behind the hill country. My young artist self began sketching those small friends: rocks, leaves, ants, cobwebs. There was a way in which I felt like drawing them would allow me to really see them, as well as keep them with me as I moved through the world.
As I drew, a curiosity began to develop with shape and form. After graduating high school I dove into intensive sculpture and drawing classes at the University of North Texas and the Rhode Island School of Design. Soon after, I moved to the Bay Area to study at SFAI, where I graduated in 2001 with a Bachelors of Fine Art in Sculpture. Around that time, I got my first tattoo of a large tree. I loved those friends so much as a kid, always wanting to pass them on my way somewhere, climb them, confide in them. Before we started, my tattoo artist and I went tree climbing so that I could explain my respect for them. It was during this first tattoo process that I decided I wanted to be a tattoo artist – able to recreate an image for someone that inspires them to love, to reconnect with the world, and to feel confident in their bodies. That was the kind of job I wanted to pursue, and so began my path of learning anything and everything about tattoos.
Sixteen years later I am still honored to be doing this work.  I opened the tattoo shop Diving Swallow Tattoo over twelve years ago with my tattoo artist friends, and am super proud of the tattoo work that comes out of the shop.
My tattoo designs are mostly flora, fauna and space! I also enjoy duplicating paintings, drawings or paintings that other artists have created, and last but not least, food! I want more tattoos in the world based on the delicious food that exists in the world, from tomato plants to sandwiches to donuts.
Look for more of my work on Instagram @cedretattoos and I hope to meet you and your tattoo ideas in the very near future.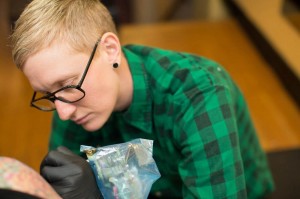 Photo by Molly Decoudreaux Photography